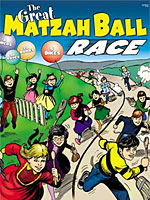 The Great Matzah Ball Race

The Matza Ball Race is run by participating in the overwhelming preparations and encourages active involvement in the Seder itself.

Model Matzah Bakery Workshop

In this exciting workshop, children learn how Shmurah Matzah is made from "scratch."

Matzah Bakery Tours

Tzivos Hashem arranges tours of local Matzah bakeries for school groups.

Pesach Experience

Pesach may not be the official "Holiday of Joy" but you wouldn't know it from this mega-event!