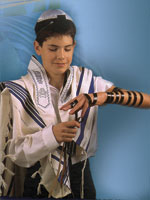 Project Step Up for Bar Mitzvah boys

Boys can turn to Tzivos Hashem to prepare them for their Bar Mitzvah.

Bar Mitzvah Video and Audio Kit

Whether they'll be reciting the "Berachot" on the Torah, or chanting their entire Torah portion, this handy kit is sure to help any overwhelmed Bar-Mitzvah boy.

The Bat Mitzvah Club™

The Bat Mitzvah Club™ addresses the special concerns of Jewish girls.

Tefillin Workshop

Fashioned from one piece of leather, "Tefillin" are perhaps one of the most fascinating religious objects produced. Children watch the process in this exclusive workshop.

Bar/Bat Mitzvah Twinning

Tzivos Hashem arranges "Twin" Bar/Bat Mitzvahs so an American child celebrates his/her special day "together" with a less fortunate child living in Eastern Europe.